MAX
The MAX is a light rail system in Portland. There are also buses and streetcars. It's the best way to get from the airport to the Convention Center (and probably your hotel). I've used it every time I've been there the last few years.
There is also a streetcar system that roughly runs perpendicular to the MAX lines through the downtown area. I have found it less useful than the MAX and places you might be able to get to downtown with a combination of the MAX and the streetcar are easier to get to, I think, with a combination of the MAX and walking. But here is a pointer to the streetcar system.
The MAX runs about every 5–15 minutes (though once one of them broke down so I had to take a taxi to the airport, but that was once out of many dozens of trips). They stop at all stops. There are machines at each stop where you can buy tickets.
MAX Map
Here is a map of the MAX.
And here is the map in PDF format. Here is the most important part: The MAX from the Lloyd Center to and through Downtown is free.
Getting Places Using the MAX
I'll tell you how to get from the airport to the Convention Center and from the Convention Center to Downtown—the process is a little different.
From the Airport
Well, before I tell you how to get to the Convention Center from the airport using the MAX, here is some important information: Wifi in the airport is free!
Ok, once you arrive, head for the baggage claim area, which is on the ground floor. Head toward the right after coming down the escalator, and at the far right part of the baggage claim area there should be a MAX ticket machine. If you miss that one, I'm pretty sure there is another one our near the platform, which is out toward the right. The fare should be about $2.00 since you have to go from Zone 3 to Zone 1 (which is "All Zones" by their terminology). This is a lot better than the $30 it will cost to take the taxi—but which is a lot faster.
Check out this picture: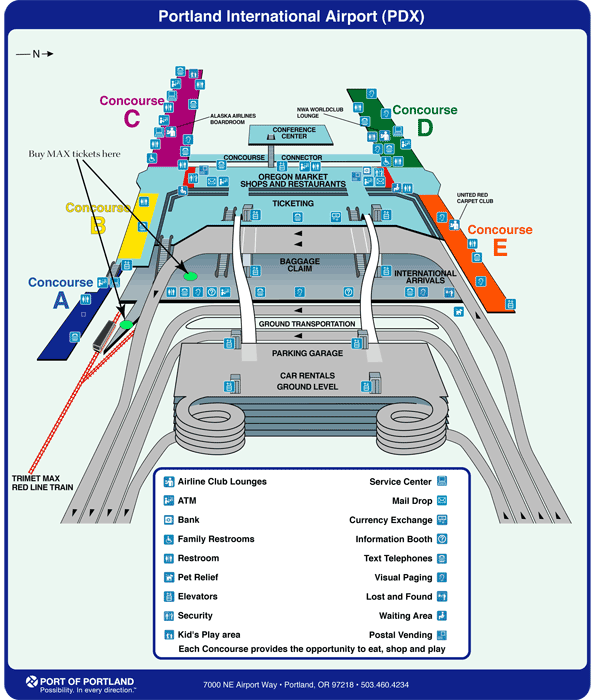 It takes about 30 minutes to get to the Convention Center stop. There will be a place where you could think you need to make a change, but stay on the train. That place will be a stop midway in this wacky loop the train makes where it turns right by making a 270° lefthand turn, stopping after 180° at a station. Many people are so stupefied by this loop they believe it means they have to change trains. But don't be fooled: Stay put.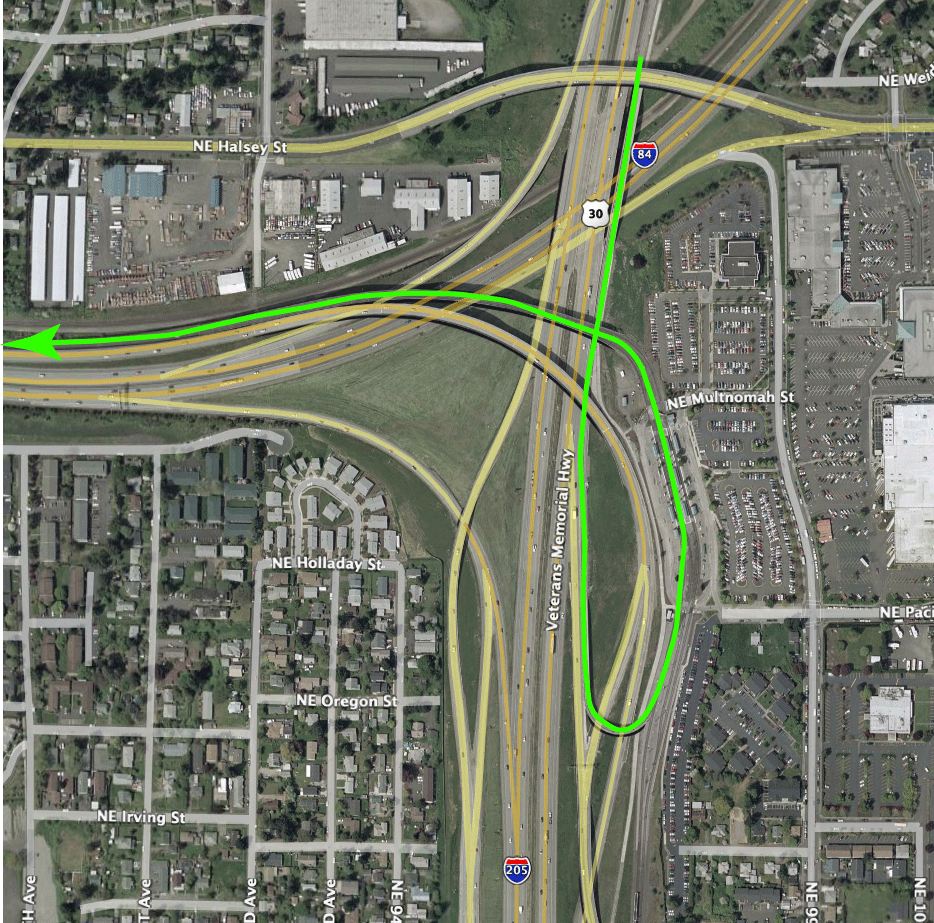 Get off at the Convention Center stop.
To Downtown
First, don't buy a ticket. Second, get on the MAX. Third, get off somewhere downtown.