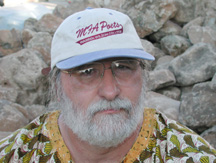 Official Photo
This is my official photo. If you are thinking of inviting me to a conference or an event and a photo like this would turn off your audience, then I am the wrong guy. To get a high-res version of this photo, click on the thumbnail above and save it to your disk.
---
Official Bio for Richard P. Gabriel
Richard P. Gabriel received a PhD in Computer Science from Stanford University in 1981, and an MFA in Poetry from Warren Wilson College in 1998. He has been a researcher at Stanford University, company president and Chief Technical Officer at Lucid, Inc., vice president of Development at ParcPlace-Digitalk, a management consultant for several startups, a Distinguished Engineer at Sun Microsystems, Consulting Professor of Computer Science at Stanford University, and a researcher at IBM Research.
He helped design and implement a variety of dialects of Lisp. He is author of four books ("Performance and Evaluation of Lisp Systems," MIT Press; "Patterns of Software: Tales from the Software Community," Oxford University Press; "Writers' Workshops and the Work of Making Things," Addison-Wesley Press; and "Innovation Happens Elsewhere: Open Source as Business Strategy," Morgan Kaufmann), and a poetry chapbook ("Drive On," Hollyridge Press). He has won several awards, including the AAAI/ACM Allen Newell Award.
For 25 years he was the lead guitarist in a rock 'n' roll band. He writes a poem every day.
---
Official Short Bio for Richard P. Gabriel
Richard P. Gabriel lives in California. He writes a poem every day.
---
Fun Bio for Richard P. Gabriel
Richard P. Gabriel lives in California. http://dreamsongs.com or:
"Black Out"
A tavern in Old Europe. Late in the evening. Participants at a psychology conference chat.
Canadian: In fact I mostly go to computer science conferences.
American: Really, is there anything interesting to discuss?
C: Well, sometimes there is. I have high hopes for this conference called "Onward!".
A: What is it about?
C: All kinds of things. It was started by Richard Gabriel, and he...
A: Who?
C: Gabriel.
A: You mean Richard Gabriel the *poet*???
Curtain.
---
Crazy But Truthful Bio for Richard P. Gabriel
Richard P. "Dick" Gabriel overcame a hardscrabble, working-class upbringing in the dreadfully industrialized and famously polluted Merrimack Valley of eastern Massachusetts to become one of the few genuine Renaissance men to emerge from the OO milieu: scholar, scientist, poet, performance artist, entrepreneur, musician, essayist, and yes, hacker…
Though somewhat less well-endowed of the effortless intellectual incandescence, easy charisma, and raw animal magnetism of so many of his generation of future object-oriented luminaries, he was able, with discipline, determination, and hard work, to survive the grueling demands of elite, first-tier academic institutions such as MIT, Stanford and UIUC to earn his PhD and become a leader among the burgeoning legions of Lisp-dom during the early nineties.
However, after a series of the inevitable, endemic startup setbacks that the Internet boom all too often left in its wake, Gabriel grew weary of the cold, cloistered, celibate tedium of engineering culture, and fell willing prey to the lure of the exotic social and intellectual stimulation and blandishments that only the Liberal Arts could offer.
And they, in turn, embraced this gruff emissary from the exotic, intimidating, but newly chic world of technology. Gabriel's dissonant, desiccated, plainchant blank verse was dark, disturbing, distant, candid, calculating, and desperate, at once florid yet monochromatic. It could "cons-up" a soul in a single haunting, searing stanza and remand it remorselessly, insouciantly to the heap in the next. It was like nothing that could be heard on the stale, staid, inbred Writers' Workshop circuits of those times.
But then, as always, poetry alone seldom pays the bills, so the prodigal poet, like a salmon to spawn, returned to his object-oriented roots, proselytizing a newfound artistic sensibility to an aesthetically impoverished community.
His technological audiences, who had subsisted on bland, austere stylistic pabulum born of their collective status as a poor stepchild of mathematics, physics, and engineering, embraced his audacious set-piece guerilla performances and this novel aesthetic dimension in a manner akin to that in which Medieval European palates had embraced the infusion of spices from the East Indies.
His considerable successes in synthesizing the "Two Cultures" in this software setting will likely stand as his enduring legacy.
Gabriel lives in Redwood City, CA. He likes to unwind by writing a poem every day.