How to Get to the Food Court
Here is a simple map with directions to the Food Court. You want to get to the Food Court because the Munch, Muse, Mooch, Mutter, Mix and Mingle at the Mall event is there on Tuesday evening from 6:00pm until 7:30pm. Also, the Food Court has food.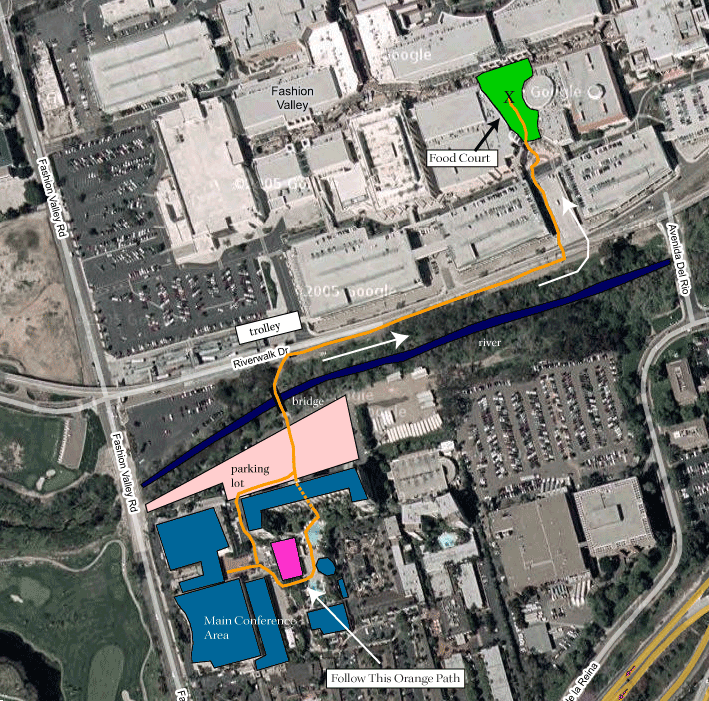 Exit the Main Conference area
If your room is in the highrise & you want to drop stuff off, go around to the right; otherwise, go left, to the left of (to the West of) the highrise, into the parking lot
You should see a footbridge on the far side of the parking lot; head for that
Cross the bridge and head for the road. You will see an elevated trolley line in front of you
[[If you cross the street and go up the stairs, you will be at the Fashion Valley (trolley) Station—Old Town is only 2 stops away to the West]]
Turn right before you get to the road and walk along it. (It's a dirt path, I think)
At the third entrance to the Mall—and after two big parking structures), turn left and head up a slight incline to the stairs. (The first entrance is just about where you hit the road after crossing the bridge)
Head upstairs, and you are at the Food Court
Here is a pdf of the above map, which might print a little better than the picture.