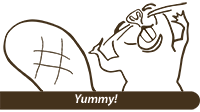 Yum Yum: an Unofficial Montréal Restaurant Guide
So far I've eaten at four restaurants near the Palais des congrès de Montréal. If you have eaten nearby, please send me a review and I'll post it here. yumyum [at] dreamsongs [dot] com.
Please take a look at the Yum Yum Who's Who to see who the reviewers are.
---
3455 Blvd. St. Laurent, Montreal (514) 284-3823
This is an expensive restaurant up Boulevard St. Laurent, about 8–10 blocks from the Palais, up a not too steep hill and just past the major road, rue Sherbrooke. I took the committee members who stayed over an extra day there on a Sunday night in early December. I recall it was not easy to find a restaurant open on that Sunday night, so maybe that's something to be aware of for OOPSLA if you're there Sunday night.
It was a very nice restaurant, but not cheap. The must-have dish is the Fruits de Mer, which is a cold plate of (raw) oysters, mussels, shrimp, lobster, and maybe some other stuff. The medium plate will serve about 5 people. All the food was good, and the portions generally large. The wine is very overpriced.
The other "attraction" is that the waitstaff are quite attractive and dressed in "uniforms," which for women are flattering (= tight) black dresses with a pink or salmon sash across the middle, and for men—well, I don't remember them as well. Several of the guys in our group needed oxygen after our meal, so be prepared. [rpg 2007]
(map)
---
Brasserie Holder
407, rue McGill (at rue St-Paul Ouest) (514)849-0333
We had our committee dinner here. It's a typical brasserie with high ceilings. I don't recall the food well—not like the Globe—but I do remember it was good and a lot cheaper (about half) than the Globe. Here is a review I read of it, which seems accurate:
Big would be the right word to describe the Old Montreal brasserie Holder. Just when I started to despair over the city's stagnant restaurant scene, along came Old Montreal's Holder to get me rah-rah-rah-ing again. It's big, it's loud, it's full of beautiful people, and the food's better than you would expect from a restaurant serving 300 covers a day. Holder's new chef, Jean-Philippe St-Denis, has headed Holder's kitchen for the past year. Always up for a bit of fun and a scene, I placed this lively brasserie at the top of my feel-good restaurant list for 2006.
[rpg 2007]
(map)
---
180 Ste-Catherine Ouest (514)2820-7444
When you arrive at the conference hotel (the Hyatt) late-ish, this is your most convenient and possibly only choice. It's down the elevator from the Hyatt Lobby, in the underground shopping complex (on level P2, I think), and also there's an entrance on Ste Catherine. It has mostly burgers, chicken, steaks, and ribs, kind of in a New Orleans style, but keep in mind it's a chain. You will eat a lot better here than in a fast-food place, but don't expect high-end cuisine. I ate dinner there the first night I arrived and also had a lunch there. Cheap, too. [rpg 2007]
(map)
---
Hot Dog / Poutine Place in the Complexe Desjardins
Down below the Baton Rouge—one floor below it on the elevator in the Hyatt lobby—is a food court. (It has a good coffee shop—the closest one to the elevators—a good chocolate place, and a grocery store at the far end (IGA).) In the food court is a place that serves hot dogs and poutine! Poutine (pronounced, roughly, poo-teen) is a dish consisting of french fries topped with fresh cheese curds and covered with hot gravy (usually brown gravy) and sometimes other additional ingredients like sausage. It's a sort of national dish in Québec, and I recommend you try it (but probably not at this place), but I also recommend that you get a group and order one plate for all of you—the more of you the better. In the Summer of 2006 I was biking from Nashua, NH, to Québec City with the drummer in my old band, and we had dinner in Victoriaville with his family who were sagging us. Well, they ordered poutine after telling me about it the previous nights. It was as bad tasting as the description sounds. But, I put it down as a category of food Brian Foote clued me into in Scotland a few years back: Perhaps this was airline poutine. (Like the airline hagus they served us at ECOOP 2005.) When we got to Québec City, we had dinner in one of the nicest restaurants there, and we decided to get poutine to compare with the small-town versi0n. Worse. A lot worse. [rpg 2007]
(map)

Okay—I SO do not agree with your poutine comments. It is literally one of my favorite foods. What could be better than fries with gravy, PLUS CHEESE??? I mean, this has it all: fat, salt, and sugar! It's the perfect food. Also, when it's -40°, you need something just like that. [eb 2007]

I don't really share Richard's opinion on Poutine. In fact I am very much on Elisa's side. I think it's one of the best foods in the world and the later the night the better it gets :) The locals pronounce it rather "poo-tseen" than "poo-teen", by the way, as Québécois tend to add a random "s" (in spoken language only) after "t"s for whatever reason. Anyway, a list of really good poutine places can be found at www.montrealpoutine.com/reviews.html (dead link). My personal favourites are La Banquise and Patati Patata (try the "Patatine"). Frite Alors also has a couple of restaurants on St. Laurant and on Bleury and serves quite a good version of poutine. [EricB 2007]

It appears poutine is on the rise. It's reported to be flourishing in New York (here is an article from the New York Times on it—perhaps you need to be registered to access it. But here are some pix from the story, and from the loving aspect of them you can see that the article is flattering. [rpg 2007]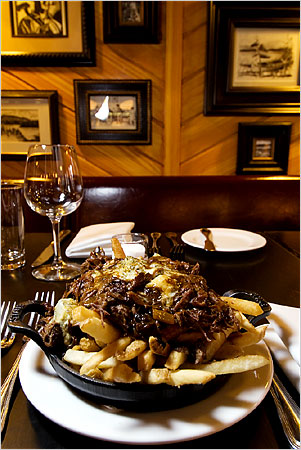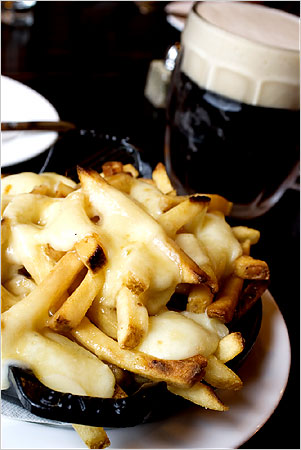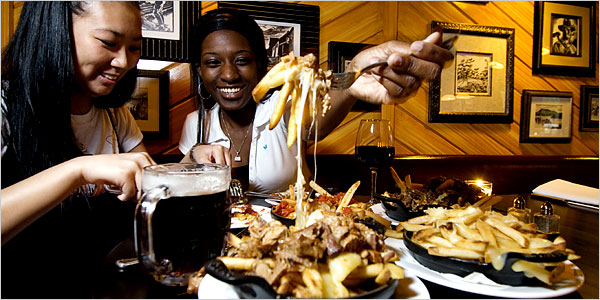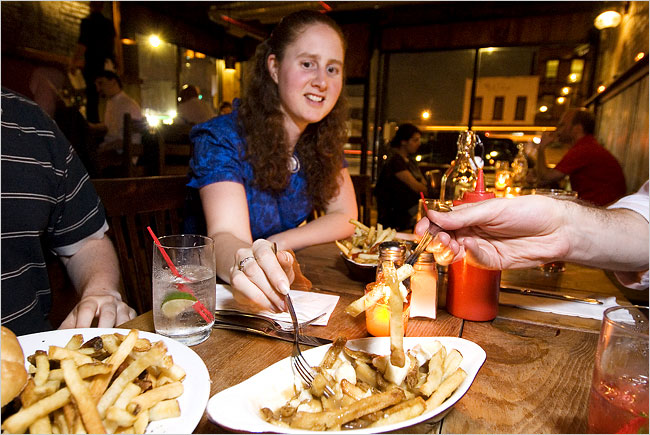 ---
Pizza
One of the best Pizza's in town is served in the smallish Amelio's, which has been serving thousands of students over the years. Be prepared to wait a little as they don't have that many tables available. But I can guarantee that pizzawise it's worth it. As in many restaurants in Montréal, you may bring your own wine. [EricB 2007]
---
Live Jazz, Outdoors
Jardin Nelson (website) is a beautiful restaurant with the majority of seats located outside in a nice garden near the Old Port. If weather permits, this is certainly something one shouldn't miss. (They usually do provide heaters in Fall.) Every night they have a live music act, usually Jazz or Blues. [EricB 2007]
---
Au Pied de Cochon
Last time I was in Montreal, I dined at Au Pied de Cochon and experienced gastronomic bliss. I definitely plan on returning! Prices are reasonable considering the world-class cuisine and service you'll get. [RNorton 2007]
---
Arahova
I absolutely recommend Arahova as an eatery for this year's OOPSLA. There're a few locations around town but I frequented the one on St. Viateur and Parc since one of the two famous bagel places (the other one) is right across the street (so you can stuff yourself further afterwards). Get the #2 (souvlaki) or #8 (gyro) in a pita with potatoes. It's the best thing ever.
Mmmmmmm. [ntaylor 2007]
---
Bagels
Montréal is famous for its bagels. According to Wikipedia: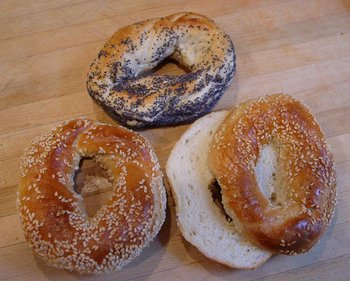 In contrast with the New York-style bagel, the Montreal bagel is smaller, sweeter, and denser, with a larger hole, and is always baked in a wood-fired oven. It contains malt, egg, and no salt, and is boiled in honey-sweetened water before being baked in a wood-fired oven.

Well, there are two big ones: St. Viateur Bagel and Fairmount Bagel, both of which are in the Fairmount neighbourhood, just off Ave. Du Parc (I think Fairmount Bagel is actually on Fairmount St, but I could be wrong). Fairmount has a wider selection of bagel flavours and in my experience the people there were always a bit more friendly, but I always preferred St. Viateur because the bagels you buy have literally just come out from the huge oven that dominates the store (they're cooked on these long wooden planks and then dumped into this trough of sorts, where they're then picked by the guy behind the counter and bagged for each customer), so more often than not they're still piping hot when you buy them and eat half the bag on your walk back home.
But they're both great, don't get me wrong. [ntaylor 1/2007]
---
Big Batch o' Reviews
Basically, it's really hard to find a bad restaurant in Montréal. Here is a file I usually send to our guests looking for a place to eat. Warning, there are nearly 200 restaurants in this list all of which have been recommended in one way or another, so you may want to extend your visit.
Some of my personal favourites near the convention centre are: Toqué (2 locations Old Montreal & St.Denis), Chez L'Epicier (Old Montreal), Le Latini (René Levesque & Jeanne-Mance), Ferreira Café Trattoria (not as close on rue Peel, very nice Portuguese cuisine), Milos (even further, very expensive, but Greek seafood to die for). [jm 3/2007]
---
Excellent Portuguese-style seafood in a definitely urban atmosphere. Animated wining and dining by well-dressed crowd goes on until late in the evening. Expectedly expensive, but worth it. [mr 5/2007]
---
La Maison Kam Fung
(not longer exists)
1111 Rue St-Urbain
Montréal, QC H2Z 1Y6
(514) 878-2888
This restaurant is close to the conference center and comes recommended by Christopher Fuhrman. [rpg 8/2007]
---
Aux Vivres (Vegetarian Restaurant)
4631 St Laurent
Montréal, QC H2T 1R2
(514) 842-3479
This one isn't so close by, but the reviews (except one) rave about it. It serves vegan as, I believe, as vegetarian. The one bad review was by someone—who seemed otherwise a little nutty—who got ill after a meal. Recommended by Christopher Fuhrman. [rpg 8/2007]
---
Restaurant Brunoise (Contemporary fine dining)
(not longer exists)
3807 Rue St-André
Montréal, QC H2L 3V9
(514) 523-3885
This looks like an up-to-date Montréalian restaurant, perhaps influenced by French cuisine. Recommended by Christopher Fuhrman. [rpg 8/2007]
---
Restaurant Nonya (Indonesian)
151 Rue Bernard Ouest
Montréal, QC H2T 2K3
(514) 875-9998
Another restaurant recommended by Christopher Fuhrman. [rpg 8/2007]