(Unofficial) Old Town Guide
Old Town is the original San Diego settlement and town. Now, it's the best place to get Mexican food in San Diego (as far as I'm concerned). My favorite place there is Casa de Guadalajara. There are about a dozen restaurants there. Most importantly, aside from the restaurants at Town & Country and at the Food Court in the Mall, Old Town has the closest (good) restaurants.
Getting there is pretty easy.
Getting to Old Town via Trolley
Go to the Fashion Valley trolley station (here's another map) (in fact, you should read the trolley information page before you set out

Exit the Main Conference area
If your room is in the highrise & you want to drop stuff off, go around to the right; otherwise, go left, to the left of (to the West of) the highrise, into the parking lot
You should see a footbridge on the far side of the parking lot; head for that
Cross the bridge and head for the road. You will see an elevated trolley line in front of you

Go up the stairs. At the top of the stairs will be two fare machines. You should buy your tickets here. Both take cash and one or both take credit cards. There is a manned ticket booth near the tracks, but sometimes no one is there. It will cost $1.75 one way or $3.50 round trip / return
Get on a trolley labeled either "Green Line" and "Old Town" or "Blue Line" and "San Ysidro"
Go two stops: Morena/Linda Vista then Old Town
Get off at Old Town
Walk away perpendicular to the tracks in the only direction you can go (there is a fence on the wrong / west side)
You will see a sign that looks like this, probably: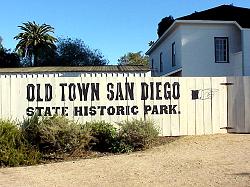 Use the map below for the rest of your trip—the trolley lets you off roughly in the lower lefthand corner of it, sort of where the crude picture of a trolley on some tracks is.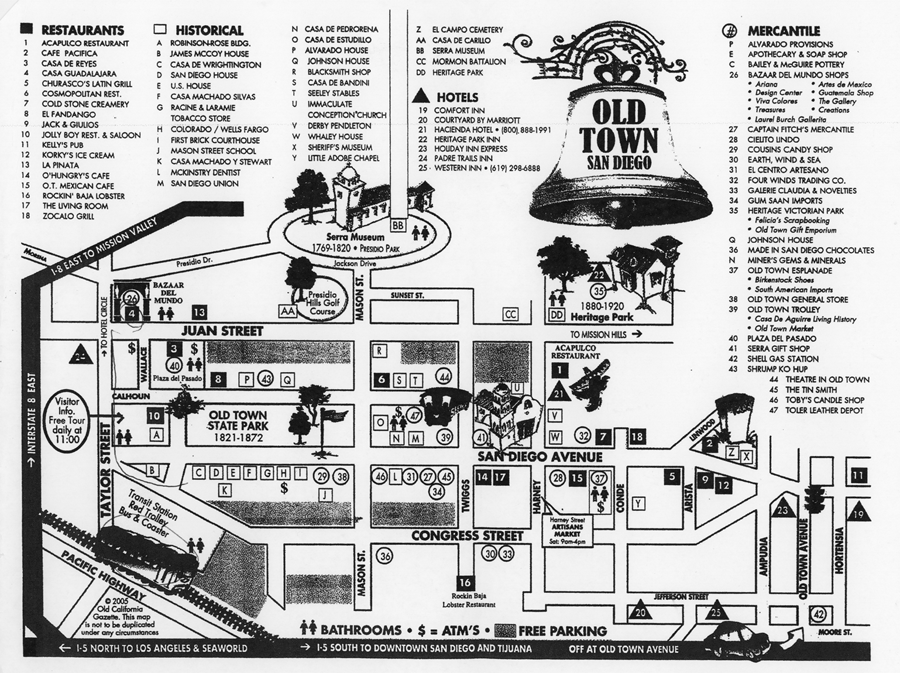 Here is a 2.3mb pdf of the map, which might print better.
Getting Back from Old Town via Trolley
Take the trolley Green Line which is labeled "Green Line" and "Santee"; get off at Fashion Valley (Morena/Linda Vista is in between) or
Take the trolley Blue Line which is labeled "Blue Line" and "Qualcomm"; get off at Fashion Valley (Morena/Linda Vista is in between)
Remember: OOPSLA is at Fashion Valley, not at the Convention Center