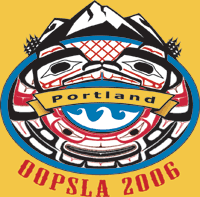 HowToGAO
The (Unofficial) How To Get Around OOPSLA Guide
This is the OOPSLA 2006 Guide
This year OOPSLA is in Portland, one of my favorite cities—and it's the site of the first OOPSLA in 1986. The Oregon Convention Center is not in the absolute nicest part of Portland, but it is about 5–10 miniutes away from it by a free light rail ride. In this guide I'll explain where the conference is, where the hotels are, where you can grab some food, where some really nice places are, and some of my favorite things about this year's OOPSLA.
Contents
Portland is in the Pacific Northewestern part of the US. This means that in October it will likely rain. There is a large volcano, um, I mean, mountain to the southwest of the City, which is quite prominent when it's visible—Mt Hood (that's the mountain that's in the logo in the upper left). In Portland they say you can tell the weather by looking toward Mt Hood.
If you can see Mt Hood, it's about to rain. If you can't see Mt Hood, it's already raining.
In fact, I've been to Portland for maybe 2 or 3 months over the last 25 years, and it has rained only once. (Of course, as of last October I had been to San Diego maybe a month over the same 25 years, and it had never rained there also—but at OOPSLA 2005 it did rain.)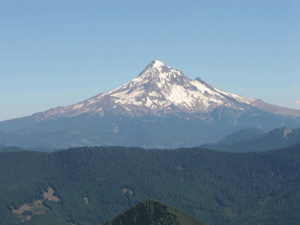 (It's about to rain.)
Here is an overall map of Portland to get you situated.